Smoke'n Aces Poker follows TDA rules: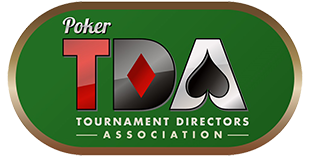 How it works
Smoke'n Aces Poker League plays live Texas Hold'm Tournaments at various venues such as bars. restaurants, etc. There is NO entry fee to play in live tournaments. The concept is very simple, as we don't have confusing parameters as some leagues. You don't have to win this tournament to qualify to that tournament in order to have a seat in that big tournament 6 months down the road. We keep it local, to your favorite watering hole, restaurant or hang out.
The league will consist of four (4) weeks of live tournaments, with each location hosting one(1) tournament each week. Each player will receive points according to what place they placed in the tournament, along with bonus points for winning the tournament or also placing in the top three(3). Along with various prizes for top finishers. At the end of the four (4) weeks the top point leaders from each location will win a seat to the Main Event Tournament on the following Saturday at the end of week four (4) hosted by one of the league venues to compete for cash prizes totaling $3,000.00.
Players will be able to play at multiple locations, but points will not carry over from one location to the next. They will only count in that particular locations point standings.
Point system
Each player will be awarded One (1) point for every person that is eliminated before them. Example: 20 players– First player knocked out of tournament would receive Zero (0) points, the winner would receive 19 points. Bonus Points: 1st Place 20 pts. 2nd Place 15 pts. 3rd Place 10 pts.
Blinds & structures
Blind times are generally determined by the amount of time available to run each tournament, as well as the number of players in attendance. Tournament directors usually run 20 minute blinds. If the games are running too long, TD's can switch to 15 minute blinds after the first break, at their discretion.
Level 1: 100 / 200
Level 2: 200 / 400
Level 3: 300 / 600
10 minute break, color up white chips
Level 4: 500 / 1000
Level 5: 1000 / 2000
Level 6: 2000 / 4000
10 minute break, color up red chips
Level 7: 3000 / 6000
Level 8: 5000 / 10000
Level 9: 10000 / 20000
Level 10: 15000 / 30000
Level 11: 25000 / 50000
Blinds will continue to double for levels 11+
Smoke'N Aces poker league rules:
These rules govern the operation of all players in any Smoke'n Aces Poker League sanctioned event.
All players must agree to and abide by all the Smoke'n Aces Rules. For game specifics see How To Play Texas Hold'em
All events are FREE to enter. Chips have no cash value and are for play purposes only.
Players receive League Points based on event finishes.
Players must be at least 21 years of age.
Players who do not follow the rules, will receive a verbal notice, penalty, then removed from the event if the behavior continues.
No weapons of any kind are allowed at any Smoke'n Aces Poker League event.
Excessive use of profane, obscene language, causing a disturbance by arguing, shouting or making excessive noise is not allowed and those caught engaging in these acts will be subject to penalties or removal from the event.
Throwing, tearing, bending, crumpling cards or chips is not allowed and those caught engaging in these acts will be subject to penalties or removal from the event.
Gambling, cheating, stealing or placing currency on the poker table IS NOT allowed and those caught engaging in these acts will be immediately removed from tournament and or location. Location Owners, Managers and employees of location have the right to remove any player from game and or premises for the aforementioned rule violations #4 thru #9
All Tournament Director decisions are final.
Seating is assigned by a drawing of cards.
At the beginning of the event, the dealer button will be placed at the first player position on the left side of the table. The person drawing the ace is the dealer.
Chips must remain on the poker tables at all times, with the highest denomination chips clearly visible.
Players who are away from the table for more than 20 minutes will be removed from the tournament.
Dealers may fold your cards if you are not at the table when it's your turn to act.
Dealers may fold your cards if you are on a cell phone when it's your turn to act.
Announce bets or raises clearly. No string bets allowed. Do not splash the pot.
An oversize chip bet is a call, unless previously declared a raise.
Raises must be at least the amount of any previous raise (or bet), except when all-in.
Players must show both of their cards to win a contested pot.
Side pots will be used when necessary.
ANY player who is last to act that 'checks' an indisputable winning hand (the nuts), will be subject to a penalty.
If player 1 shows their live cards to player 2 (who is still in the hand) then player 1 must show everyone.
If player 1 shows their live cards to player 2 (who has folded) then any player may request to see player 1's cards and player 1 must show their cards to requesting player(s), after the hand is complete.
Blinds will be raised throughout the tournament according to the Blind Schedule. Players are obligated to pay all blinds in turn.
Dead Button: If the player in the small blind is eliminated, the button moves to the empty seat. Players post blinds as normal.
Dead Small Blind: If the player in the big blind is eliminated, the small blind is dead and only the big blind is posted.
If two players are eliminated on the same hand, the player who started the hand with more chips is awarded the higher finish position.
Re-deal for the button when consolidating to the final two tables or when the final table is reached. Tournament Directors discretion.
When two players remain, the player due to assume the big blind does so. The player in the small blind gets the button and acts 1st prior to the flop & 2nd after the flop.
Players must be a minimum of six feet away from all tables before smoking or vaping any device.
Please treat your venue staff, Smoke'n Aces staff, fellow players and the game with respect.
These rules are not all encompassing and depending on the situation, a player may be disqualified or suspended for behavior not specifically listed above.
Thanks and we'll see you at the tables!